Taylor, Jeremy Unum Necessarium Or, The Doctrine and Practice of Repentance…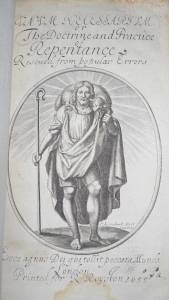 London, James Flesher and R. Royston, 1655
8vo. (18x11.5cm), A complete copy: 48 unnumbered pages, folding engraving, 1-448, 8 unnumbered pages, 449-690, 8 unnumbered pages
An exceptionally clean, crisp copy internally: a few pages with light foxing, occasional very light staining in the lower margin, and a few inoffensive marks. The engraved title page somewhat dusty and a little creased at the edges with light stain at the bottom. The title page slightly flicked with red at the top when the binder dyed edges of the pages red with the book closed. The end papers not pasted down to the boards. The front end paper with a small hole in it and the rear endpaper torn, with loss, at the edges.
Collates A-Z 1-8, Aa-Hh 1-8, Hh-Zz 1-8, Aaa 1-4 (Hh is used twice, for two successive groups of pages: the second group with the title page 'A Further Explication of the Doctrine of Original Sin…', dated 1656, four unnumbered pages form the title page and dedication to this work and the page number is picked up from the previous pagination when the text of this book begins.)
Bound in polished calf, probably contemporary with the book, with very simple linier decoration. The binding in the flat backed style (that is with the spine glued to the back of the text block), and consequently rather fragile and tight on the book. Some light stains on the boards and the spine rather worn but still in quite good condition: some creasing to the leather a few patches where the surface of the leather has been lost, the leather worn on the hinges with some loss, a split in the leather on the front hinge but the board firmly attached and a split in the back hinge about 7cm long, again the board firmly attached. Pieces of leather missing from the head and foot of the spine and the leather on the spine rather dry.
With the bookplate of Walter Hurst inside the front cover and a pencilled note inside the back cover that the book was collated perfect by an employee of Bernard Quarich Ltd. In 1926 and purchased at Hogkins in the same year.