Officium Hebdomadae Sanctae… printed in Brescia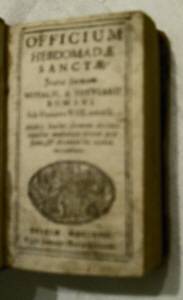 Book Title:
Officium Hebdomadae Sanctae
Brescia (Brixia), Typis J.M. Rizzardi, 1758.
Small 8vo. (10.5x6cm), 512 pages. Some spotting, marking and fingering to the pages, generally a well used book. A little worming to the later half of the book, cutting into words but never, as far as I can see preventing them being read. The end papers also spotted, with a previous owner's inscription inside the front cover.
Bound with a leather spine and marbled paper covering the boards. The binding worn and rubbed, with loss to the surface of the marbled paper, but solid, apart from a split in the front hinge approximately 3.5cm long.