Important Catalogue of Liturgies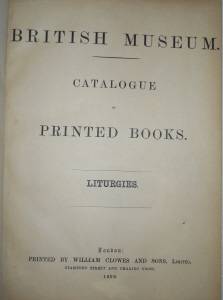 Book Title:
British Museum. Catalogue of Printed Books. Liturgies.
London, British Museum, 1899
34x24.5cm. Title page + 388 pages (however numbered in columns not pages). Slight creasing, but generally a very clean copy.
Bound in black cloth covered boards, worn but solid, the title in gilt on the spine. The cloth split along the front hinge and frayed with some loss, although the spine still firmly attached. The same problem with part of the rear hinge.
An extremely useful catalogue of liturgies in a large number of languages.