Charles Lamb, Prose Works, 1836, including the Essays of Elia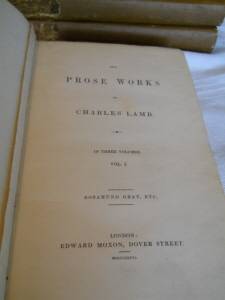 Book Title:
The Prose Works of Charles Lamb. In Three Volumes
London, Edward Moxon, 1836
The heraldic bookplate of Charles Lilburn in each volume; a number of volumes from his library are now in the Folger Shakespeare Library.
Volume 2 contains the Lamb's famous Essays of Elia.
3 volumes. 8vo. (20x12cm). Volume 1: vi + 356 pages + 4 pages publisher's catalogue. Volume 2: iv + 340 pages. Volume 3: xiv + 296 pages. A stub before the title page of each volume, probably from the removal of the half-title page.
Some creasing to the pages and a roughness at the edges, a little browning to the paper and a few pages with spots or marks, generally confined to the margins and never affecting legibility. The edges rather dusty when the books are closed and a few gatherings slightly out of line, although firmly attached. A few pages slightly short at the margin.
In volume 1the endpapers and the last page of the publisher's catalogue, rather more heavily foxed and a small hole in the leaf after the title page, not touching the text.
In volume 2 foxing to endpapers and some to title page. A small hole in the blank margin of page 337 (aprox. 1 x 0.5 cm) a gap between the pages here, although no looseness.
Bound in old boards covered in paper, probably original, worn and marked. The spines in brown cloth, of a latter date with what appear to be the original paper labels, the labels discoloured and rubbed.