Attic Nights - Aulus Gellius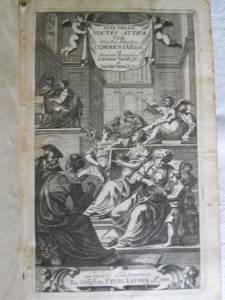 Book Title:
Noctes Atticae Cum Selectis Novisque Commentariis et Accurata Reccensione Antonii Thys I, J.C. & Jacobi Oisel I, J.C.
Leyden, Petri Leffen, 1666.
8vo. (19x11.5cm). Engraved title page + 44 unnumbered pages + blank leaf + 1129 pages + 61 unnumbered pages (indexes).
Generally a clean, easily readable, copy. The engraved title page somewhat marked in the margin, a small hole near the margin in the first few leaves caused by the stitching, a name in brown ink at the top of the title page. Five pages of the preliminaries with a tear in the blank margin, two with a small piece of paper lost. The pages often somewhat browned in the top margin, this rather more noticeable in the earlier pages. A very few brown spots, marks and creases to the pages. Some pages with light even browning and occasionally a tendency for the type to show through the page from the opposite side a little. Two gathering of the index loose but not detached. The endpapers browned with some a little old writing on them.
Bound in a full leather binding, very worn, although the covers still firmly attached. The leather heavily rubbed on the surface, with loss of leather on the edges of the boards. The leather split on the hinges with loss. A considerable proportion of the leather spine missing, although the heavy stitching holds the book together firmly.
Quite a heavy book that may require some additional postage.