New York Edition of the Novels and Tales of Henry James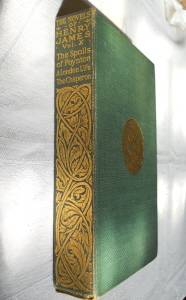 Book Title:
The New York edition, Volume 10: The Spoils of Poynton, The London Life, The Chaperon.
London, MacMillan and Co., 1913
8vo. (21x14cm), xxvi + 500 pages. Frontispiece from a photograph by Alvin Langdon Coburn. Generally a good clean copy, with very slight browning to the pages, the endpapers a little more browned. The edges of the pages untrimmed, and somewhat rough and browned when the book is closed. A few leaves short in the blank margin.
Bound in the publisher's green cloth, the spine elaborately decorated in gilt (the standard binding for the English issue of The New York Edition). The binding generally very good, with some rubbing on the corners and hinges, a little creased at the bottom of the spine and very slight fraying at the top of the front hinge.