The Merrie Days of England, 1859, beautiful Victorian gift book illustrated by Birket Foster etc.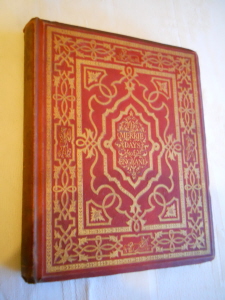 Book Title:
The Merrie Days of England, Sketches of Olden Time
Published in  London by William Kent & Co., 1859
With 20 full page illustrations by Birket Foster, Joseph Nash and others.
  4to. (25x20cm).  Most of the text clean, with a few brown spots, however some heavier browning.  Some browning to the frontispiece (mainly in the margin and on the back) and a little to the title page.  Most of the illustrations with some browning, sometimes quite extensive, but not obscuring the pictures.  Three of the illustrations with a heavy brown mark in the margin, close to the hinge, one with a dusty mark at the top.  About half a dozen of the text pages extensively browned, but never obscuring the text.  All the page edges gilt, when the book is closed.
  The book delicate, since it has the gutta-percha construction typical of a gift book, and requiring careful handling.
  In the original elaborate red cloth binding, the front cover and spine embossed and decorated in gold.  The edges of the heavy boards bevelled.  The front cover a little marked, the spine and back cover faded.  The cloth rubbed away on the corners and parts of the edges of  the boards.  The clothed rubbed on the hinges and at the top and bottom of the spine, with slight fraying in these places and the cloth somewhat grubby at the edges.  However the binding solid.
This classic evocation of Olde England, lovingly crafted in the reign of Queen Victoria, is a fascinating response to England's past; the text, the illustrations and even the binding seek to interpret that past with the confidence of the Victorian age.